Exemption letter (EAC certification)
From IFCG Encyclopedia
Technical regulation in EAEU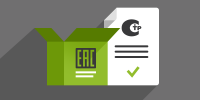 Principal legal acts
IFCG services
Exemption letter is an official document by an authorized agency, stating that products listed in such letter are not subject to mandatory certification (no EAC Certificate or Declaration of conformity to Technical regulations of the EAEU are needed). The letter is usually provided to customs authorities in controversial situations, e.g. in case of importation of "complex" products, which are sometimes difficult to classify unequivocally.
Importation of many categories of goods to the EAEU requires issue of a Certificate or Declaration of conformity (EAC document) that proves their safety and quality. However, there are plenty of goods that do not require EAC document for import or sale. To prove this, importers may obtain an Exemption letter.
Exemption letter is not an obligatory document, it is provided for information purposes only. Having it is simply an additional argument to settle controversial situations with customs authorities and other state bodies.
When an Exemption letter may be issued?
If the product does not fall within the scope of any applicable Technical regulations by its name and characteristics.
If conditions of import allow importation of goods without the EAC document. E.g., the Certificate and Declaration will not be needed for:
products imported as samples and specimens for studies and tests;
products that are spare parts to previously imported products (components);
humanitarian aid goods;
products for exhibitions (temporary import of goods);
equipment for performing artists and filming, etc.
| | |
| --- | --- |
| | Unlike the Certificate and Declaration, the Exemption Letter may be issued in the name of a foreign company. |
See also
IFCG Encyclopedia is an open knowledge base intended to help EAEU importers and experts in international trade.


If you seek any services in customs clearance, obtaining permits, licences or certificates for importation or you have questions, please do not hesistate to contact us.

Particularly, we can obtain EAC Certificates and Declarations for your goods.

Other our service include: